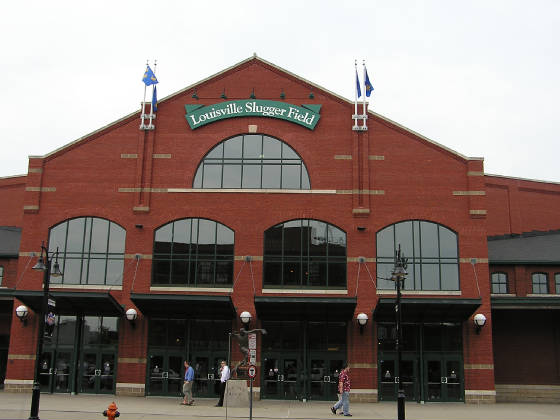 TEAM ::: LOUISVILLE BATS
LOCATION ::: LOUISVILLE, KENTUCKY
MY FIRST VISIT ::: AUGUST 21, 2008
OPPONENT ::: DURHAM BULLS
LEVEL ::: INTERNATIONAL LEAGUE 'AAA'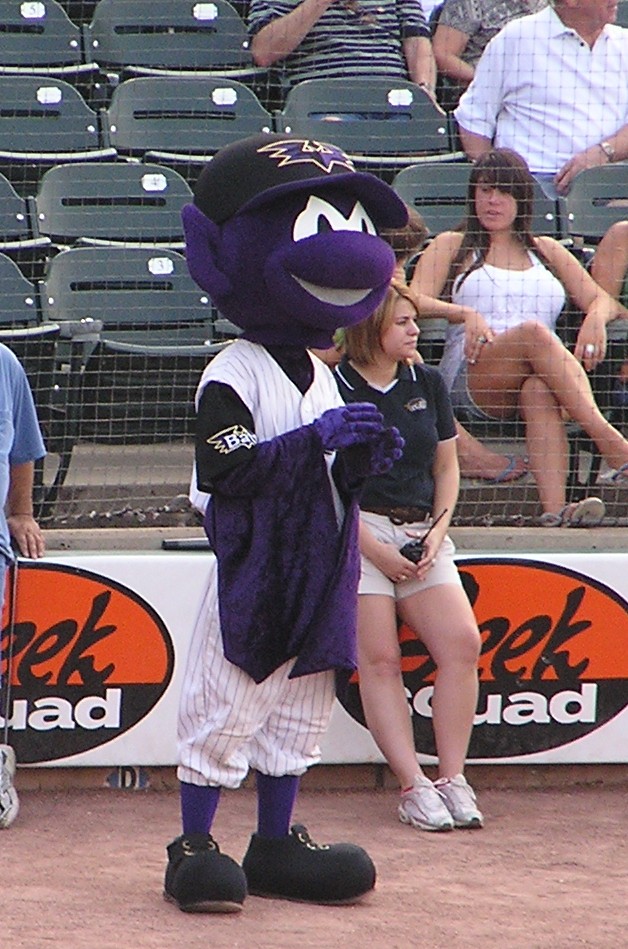 RATINGS
BALLFIELD ::: A
SCOREBOARD ::: A
FOOD ::: B+
FACILITIES ::: B
MASCOT ::: B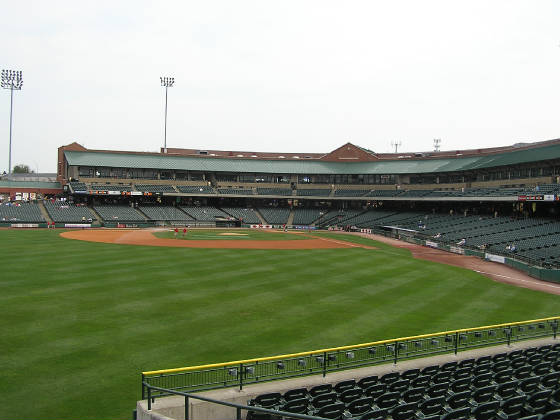 MY TAKE ON THE PARK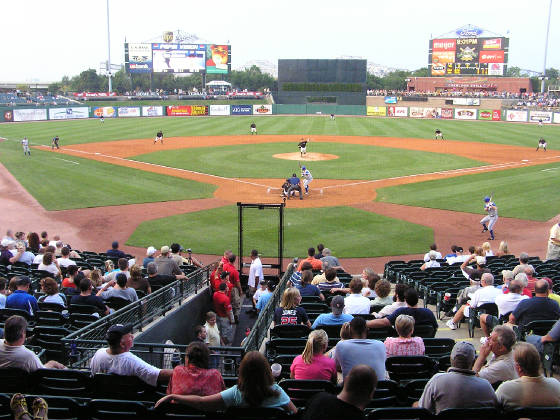 Driving into the city of Louisville you see a lot of things you may not have been expecting. A warm "Welcome to Louisville" sign on each light post, pictures of famous Louisville residents, Diane Sawyer and Col. Sanders, and a State of the Art Ballpark. Louisville Slugger Field may have aspired to be more than "just" a ballpark but the one area of this place that they have completely figured out is the ballpark.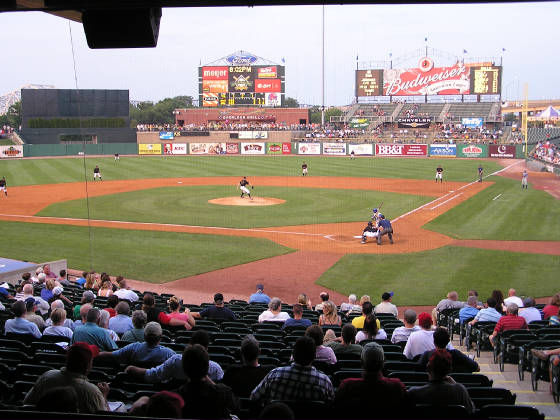 A large brick structure welcomes you to Louisville Slugger field. When entering it appears as thought the place was intended to be a ballpark / catering hall, there were a number of table set up here. Once through the turnstiles a majestic experience awaits, perfectly manicured field, a walk way that allows you to completely circle the field, and a double decked park with a unique vantage point from many different sections.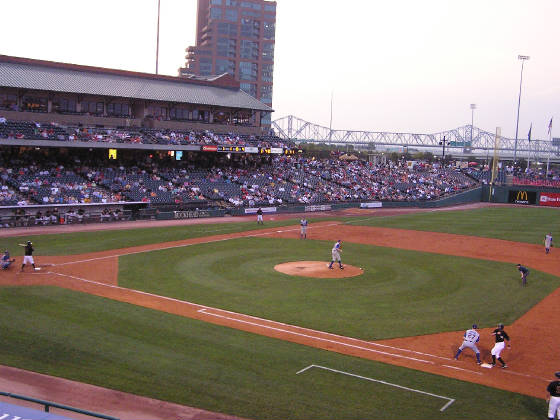 My biggest concern with attending my first game was the promotion, $1 beer night. Many times this attracts less of a baseball crowd and a little more chaos, not in Louisville. The $1 beer night only runs in the Center field concession stand and I believer only until ˝ hour prior to game time. Live music accompanied the party and it really made for a fun pre game atmosphere.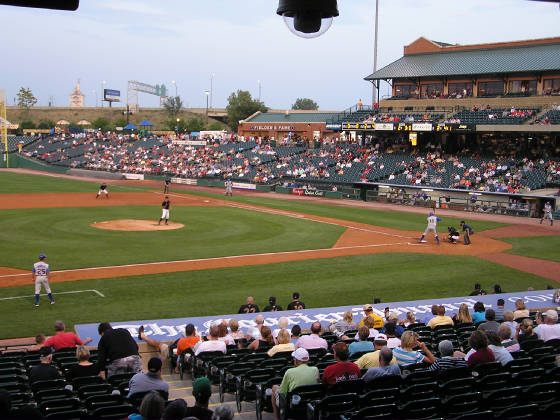 As stated, the ballpark is perfect in that it is an excellent place to see a game. Sitting over first base I felt like I had the best vantage point in the house. Every play at first I felt like I saw better than the umpire. The people I met made it all so relaxed and comfortable. Finally, the scoreboard here is Midwest fast. What is it with the Central Time Zone and a quick scoreboard, here in Louisville, the board is Wrigley Field fast.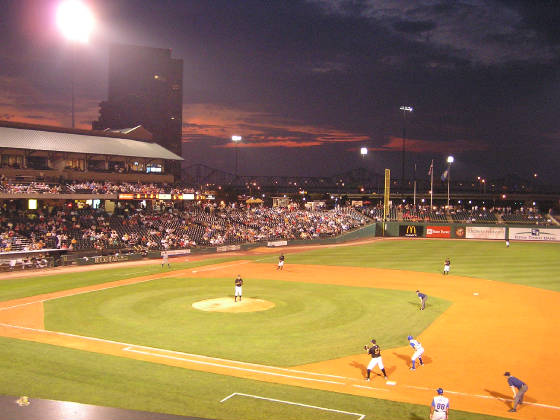 If planning a trip to Louisville, I would suggest maybe extending your stay an extra day. Below I have highlighted some places that made my trip through this area of Kentucky a little more enjoyable.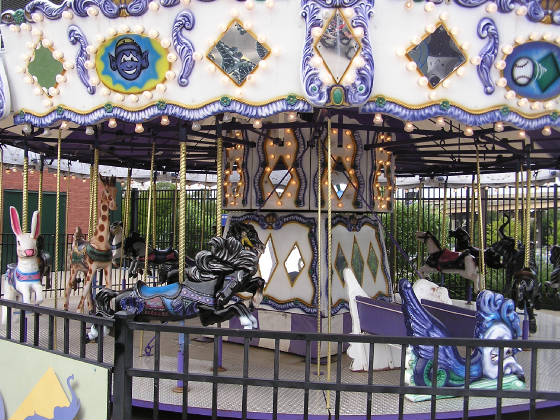 While in Louisville :::
You must visit the Louisville Slugger Museum. The tour is about an hour long but you will find yourself in there longer. Whether it is looking at old photos of Ted Williams or the latest exhibit, there is a lot more at the Museum than a large bat.
You must head over the Churchill Downs. The home of the Kentucky Derby, you will see how much care and history that goes into a place which hosts one national event on the first Saturday of May. I would love to visit on one of the 80+ race nights of the year, I am thinking seeing this track in action would make the pleasure of visiting that much more enjoyable.
For breakfast one morning you must head over the Lynn's paradise Café. This could be one of the most fun places to have breakfast that doesn't have characters walking around. When I was seated at my table I was shocked to find a complete train set inside my table. After my first sip of coffee, the train set was turned on. Aside from everything else around the place, this made the start of my day just a little better.
If possible, stay the night at the Galt house located on the Ohio River and about a six block walk to the Park. A very comfortable bed with some good views of the Ohio River.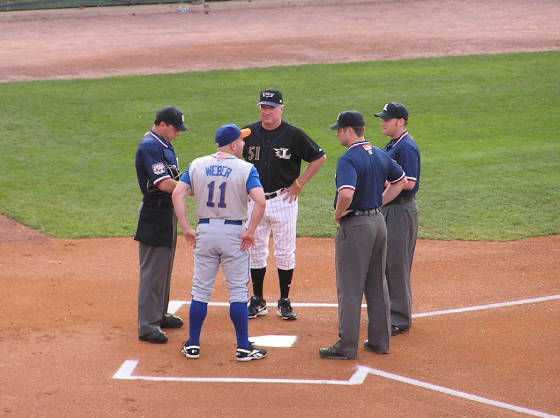 THE LINE UPS
DURHAM BULLS MANAGER :::
# 25 Charlie Montoyo
LOUISVILLE BATS MANAGER :::
# 16 Rick Sweet
DURHAM BULLS
3 Fernando Perez cf
4 Nathan Haynes rf
40 Jonny Gomes lf
46 Dan Johnson dh
27 Chris Richard 1b
45 Chris Nowak 3b
10 Elliott Johnson 2b
16 Mike DiFelice c
13 Ronnie Merrill ss
22 Wade Davis p / LP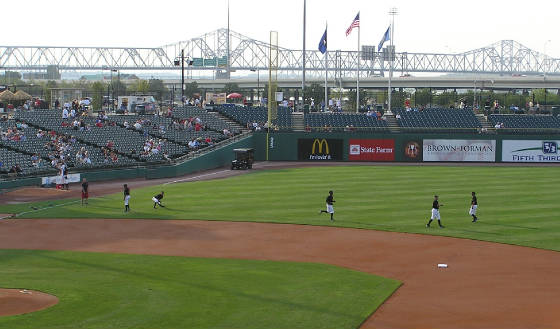 LOUISVILLE BATS
9 Danny Richar ss
10 Luis Bolivar 2b
7 Drew Anderson dh
57 Kevin Barker 1b
6 Michael Griffin lf
4 Shaun Cumberland cf
27 Wilkin Castillo 3b
26 Rob Mackowiak rf
12 Chris Tatum c
23 Adam Pettyjohn p / WP
33 Jon Adkins S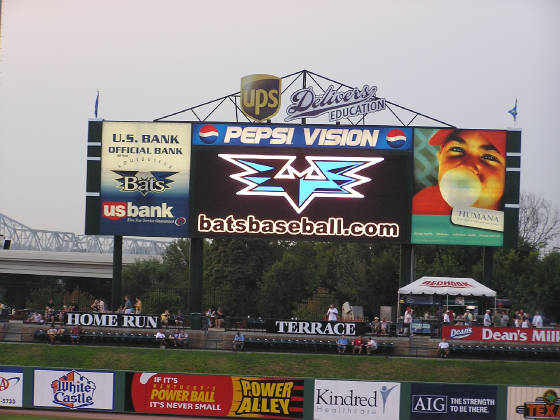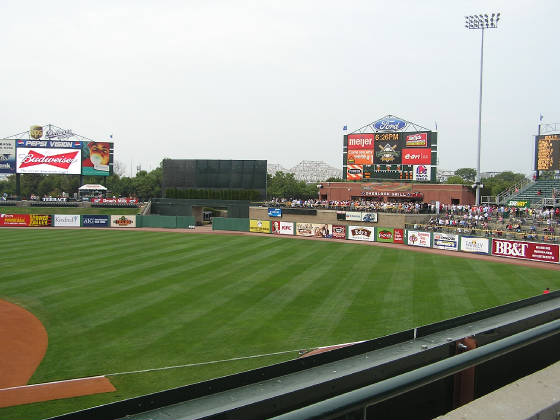 BULLS 200 001 000 3 8 1
BATS 200 300 01x 6 11 0
TIME ::: 2:32
ATTENDANCE ::: 8,503
WEATHER ::: 86 cloudy, very humid
SEND ME AN E-MAIL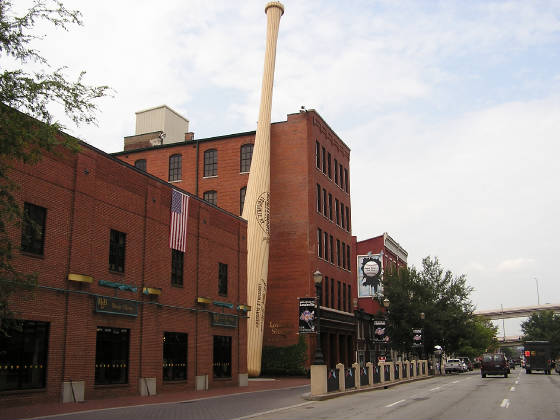 LINKS
The Official site of the Louisville Bats
The Louisville Slugger Museum and Factory
The home of the Kentucky Derby - Churchill Downs
A Great place to stay in Louisville - The Galt House
A fun and delicious breakfast in Louisville - Lynn's Paradise Cafe
Louisville weather from WEATHER.com
This site last updated:::
© 2000-2012 UNCLE BOB'S BALLPARKS
I AM IN NO WAY AFFILIATED WITH ANY OF THE TEAMS ON THIS PAGE ... THIS PAGE IS MEANT FOR INFORMATION PURPOSES ONLY.